How Brighton & Hove residents can help refugees in Brighton, including those arriving from Afghanistan - A guide by B&H City Council.
(A message from the local council, PDF above)
We're working closely with local communities and the local City of Sanctuary Group
and we're forming partnerships to provide a welcome for those seeking sanctuary in
Brighton & Hove.
Brighton & Hove has a proud history of solidarity and welcome for refugees, and we
will be doing all we can to support the people fleeing from the desperate situation in
Afghanistan.
We're working to make sure we have the necessary support networks in place and
are in urgent need of large, self-contained private sector properties to help families
resettle in the city. If any landlords can offer us properties on a long-term basis to
support this humanitarian crisis, please email refugeehelp@brighton-hove.gov.uk.
We are grateful for the many offers of help we have already received. Below is some
information outlining other ways you can assist refugees at this time.
Volunteering your time
• You can view city wide volunteering opportunities in Brighton & Hove on the
Community Works website: Volunteering opportunities in Brighton, Hove, Adur
& Worthing : Community Works www.bhcommunityworks.org.uk
• Refugee Radio – supporting refugees, asylum seekers and vulnerable
migrants run befriending services and a mental health support group and are
often looking for volunteers, please contact info@refugeeradio.org.uk  for more
information.
• The Migrant English Project – Welcoming asylum seekers, refugees and
migrants to Brighton and Hove www.mepbrighton.com  look to recruit volunteers to
support with English.
• Brighton Exiled/Refugee Trauma Service (BERTS) www.brightonandhovecbt.com
periodically look to recruit volunteers for their befriending scheme.
• The Hummingbird Project works creatively 1:1 and in groups with young
refugees in Brighton Get in Touch www.hummingbirdproject.org.uk  for more
information.
• Volunteer | Conversation-Borders www.conversationoverborders.org regularly
looks for volunteers to support with English conversational support.
Spare rooms and hosting
While the council is only looking for long-term self-contained accommodation, there
are a number of organisations you can contact if you have a spare room or short
term space you would like to offer:
• Refugees at Home Be A Host – Refugees At Home connects those with a
spare room in their home to refugees and asylum seekers in need of
somewhere to stay.
• Room for Refugees offer a similar service.
• Thousand 4 £1000 – Making homes for refugees thousand4thousand.org.uk
is a Brighton-based charity which pools hundreds of small regular donations
to provide temporary accommodation.
Fostering and Supported Lodging
• For information on fostering young refugees and asylum seekers please see:
Fostering and adoption (brighton-hove.gov.uk).
• For information on supporting young refugees and asylum seekers leaving
care please see: Supported lodgings for young people (brighton-hove.gov.uk)
or contact supportedlodgings@brighton-hove.gov.uk
While expressions of interest are always warmly welcomed, please remember that
fostering and supported lodgings is a process that takes time. Considering you will
be working with young people, often with complex needs, proper assessment for
suitability will take place.
Material goods and food donations
• Voices in Exile | Supporting refugees, asylum seekers and those with no
recourse to public funds offer practical, material, legal, and integration support
for refugees and asylum seekers in our city.
• Voices in Exile welcome:
– Monetary donations https://www.voicesinexile.org/donate/
– Food donations, toiletries, and cleaning products for their weekly food bank.
Current item list: rice, pasta, tinned fish, cooking oil, tins of chopped tomatoes,
chickpeas, lentils, washing detergent, shower gel, shampoo, hand soap and
toothpaste (adult and children)
Donations must be in date, unopened and in good condition.
Please email foodbankcoordinator@voicesinexile.org  or call 01273 328598 to
arrange drop-off.
• For clothes, toiletries and similar donations, please contact Care4Calais who
will distribute to refugees and asylum seekers in need, both in the Brighton & Hove area and nationally. They also regularly seek volunteers to support them.
• For toys and other children's items, please consider donating to: Pelican Parcels who take pre-loved and new item donations for babies and children
up to age of 10, and redistribute them to families facing financial hardship via various existing family services in Brighton & Hove in Sussex.
• Charity Shops! Refugees and asylum seekers in Brighton & Hove use local
charity shops to buy affordable clothes and other items, like anyone else, and
this enables them to make their own choices.
COVID -19
Useful links & Resources
Health advice & keeping safe
Guidelines and help from B&H Council
Covid Brighton & Hove Assistance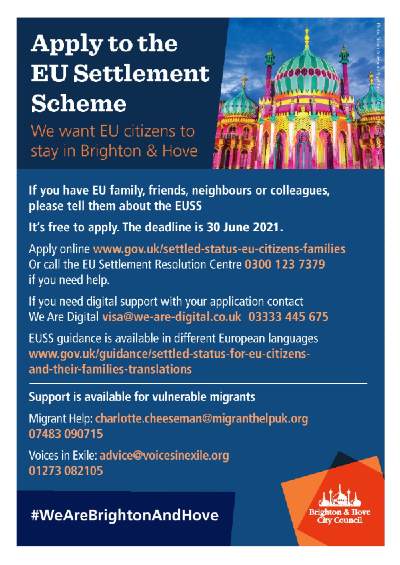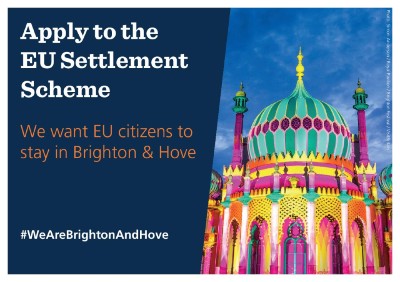 Know Your Rights
New Europeans UK and Brexit Civil Society Alliance have developed Know Your Rights cards.
Translated information, a request form and print at home option are all featured. Click this tile or copy & paste this link into your browser.
https://neweuropeans.uk/your-rights-card/